Nebraska Indian Child Welfare Coalition, Inc.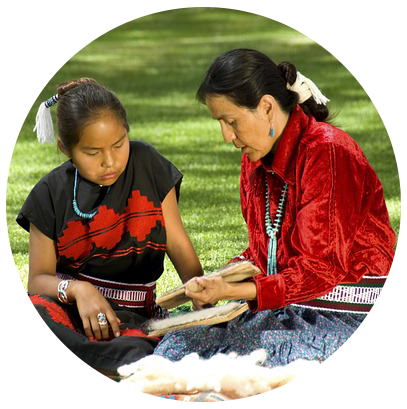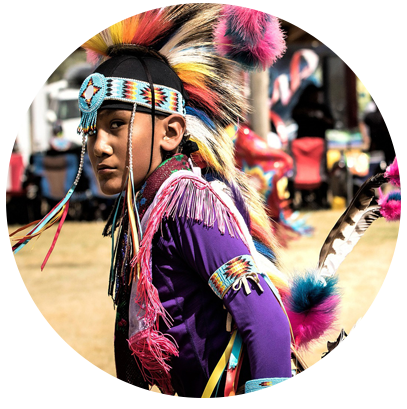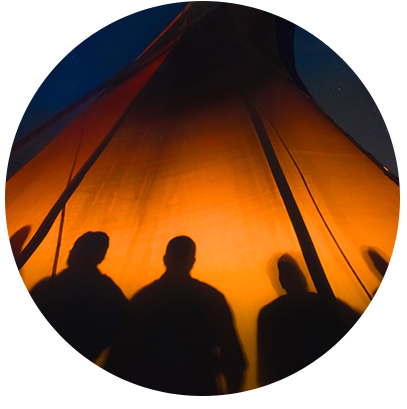 We envision all Native American children in Nebraska raised by loving Indian families, surrounded by the people, culture, and heritage that they know best.
We're passionate and persistent people willing to take risks to protect the rights and cultural connections of Native children and youth in Nebraska.

We're committed to listening to the voices of Native Americans, allies, and partners, honoring and amplifying their stories in ways that drive positive change.
We believe that every Native child gains strength and resilience from learning about their culture and heritage.
We will not stop until every Native American child in Nebraska benefits from what s/he/they is promised under the law.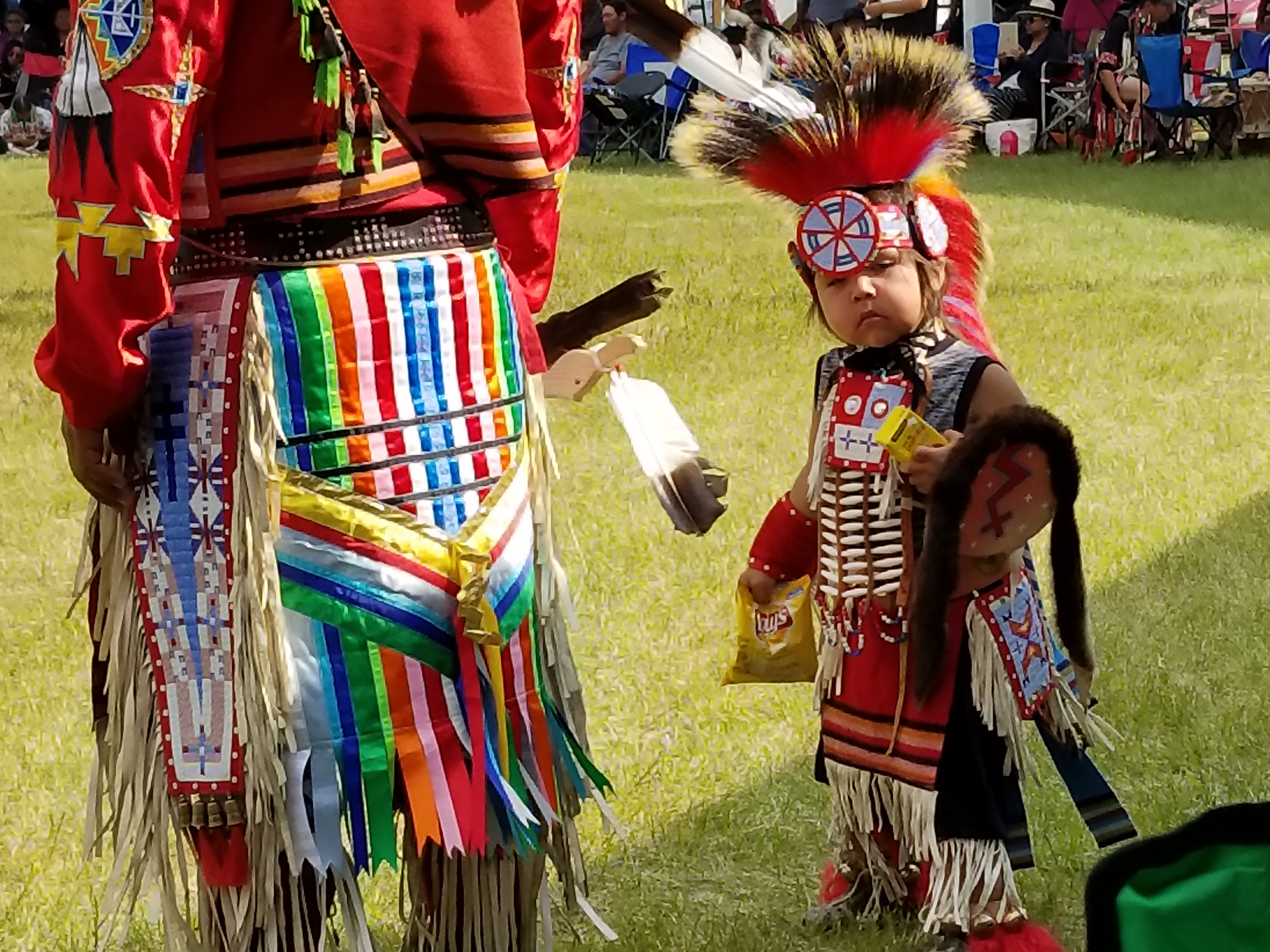 We all see the traumatic impact of the U.S. child separation policy on our southern border. What we don't always see is the original U.S. child separation policy: removal of Native American children from their families and tribes.
The federal Indian Child Welfare Act protects Indian children's rights and honors their cultural connections. It protects Native children from being unjustly removed. The law isn't consistently respected in Nebraska.
As a grassroots collective—tribal, legal, social work and other professionals—we met consistently for nearly a decade. To amplify our impact, in 2018 we incorporated as NICWC, Inc.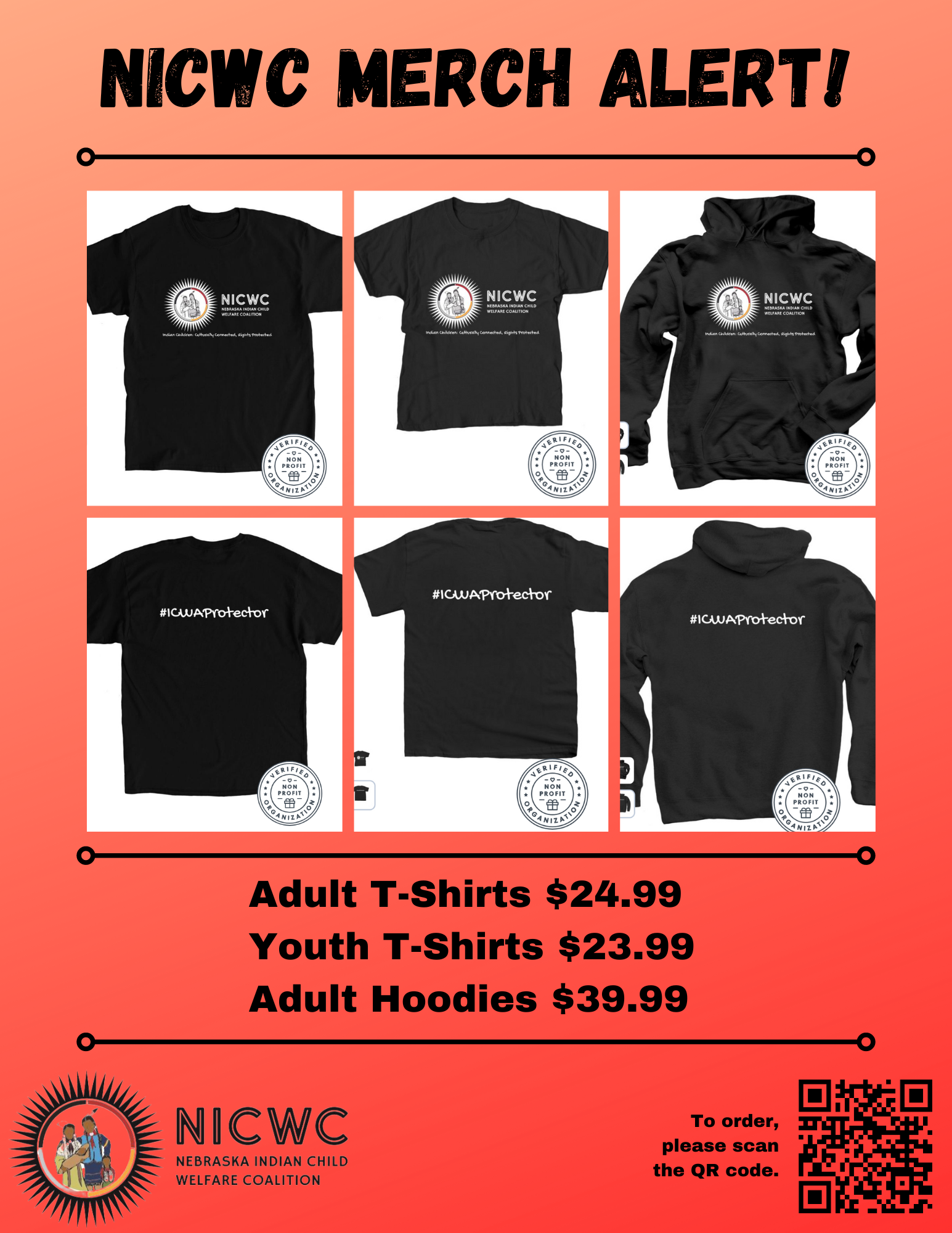 NICWC is selling adult t-shirts, youth t-shirts, and adult hoodies.  These items are available for a limited time only!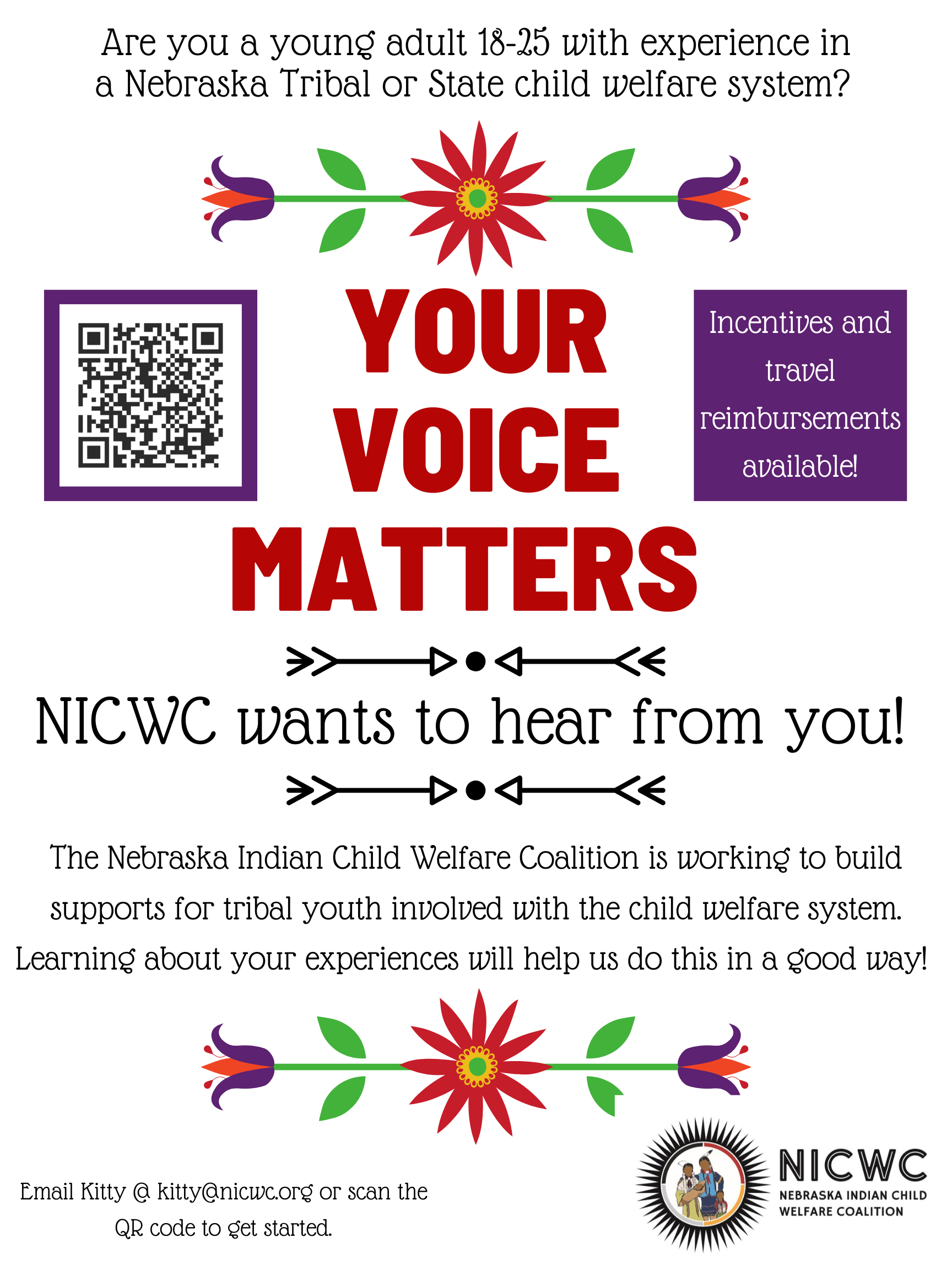 NICWC wants to hear from you!
NICWC is working to build supports for tribal youth involved with the child welfare system.  If interested, please scan the QR or contact Kitty Washburn at [email protected]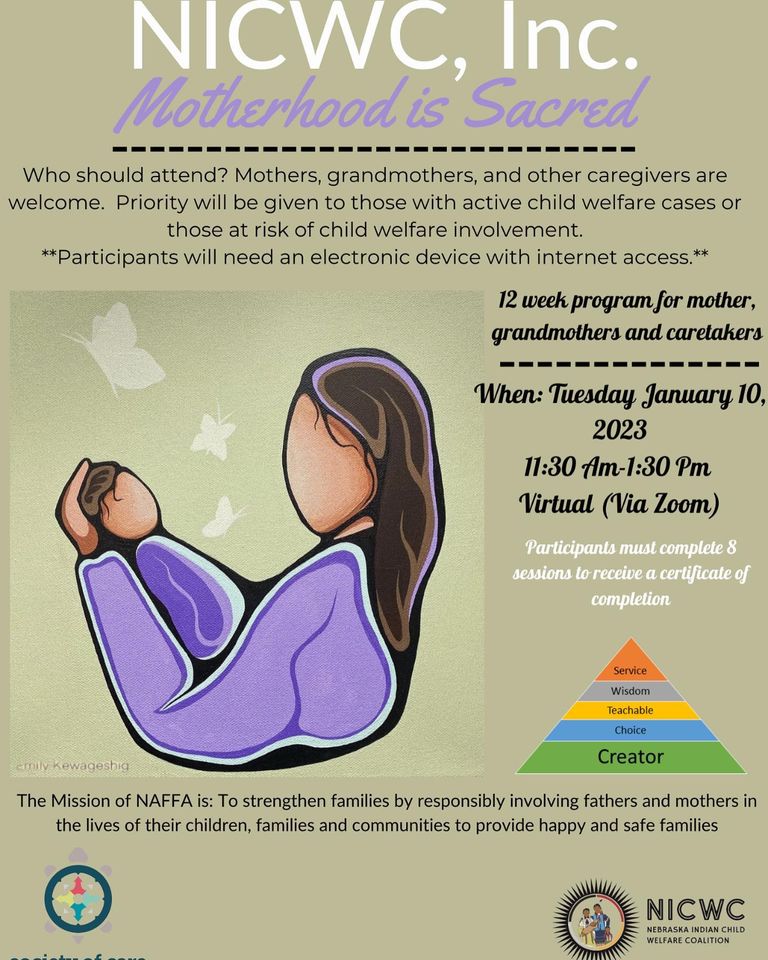 Motherhood is Sacred
NICWC is partnering with Society of Care to host another group for MIS!   This class will begin January 20, 2023, from 11:30 am – 1:30 pm.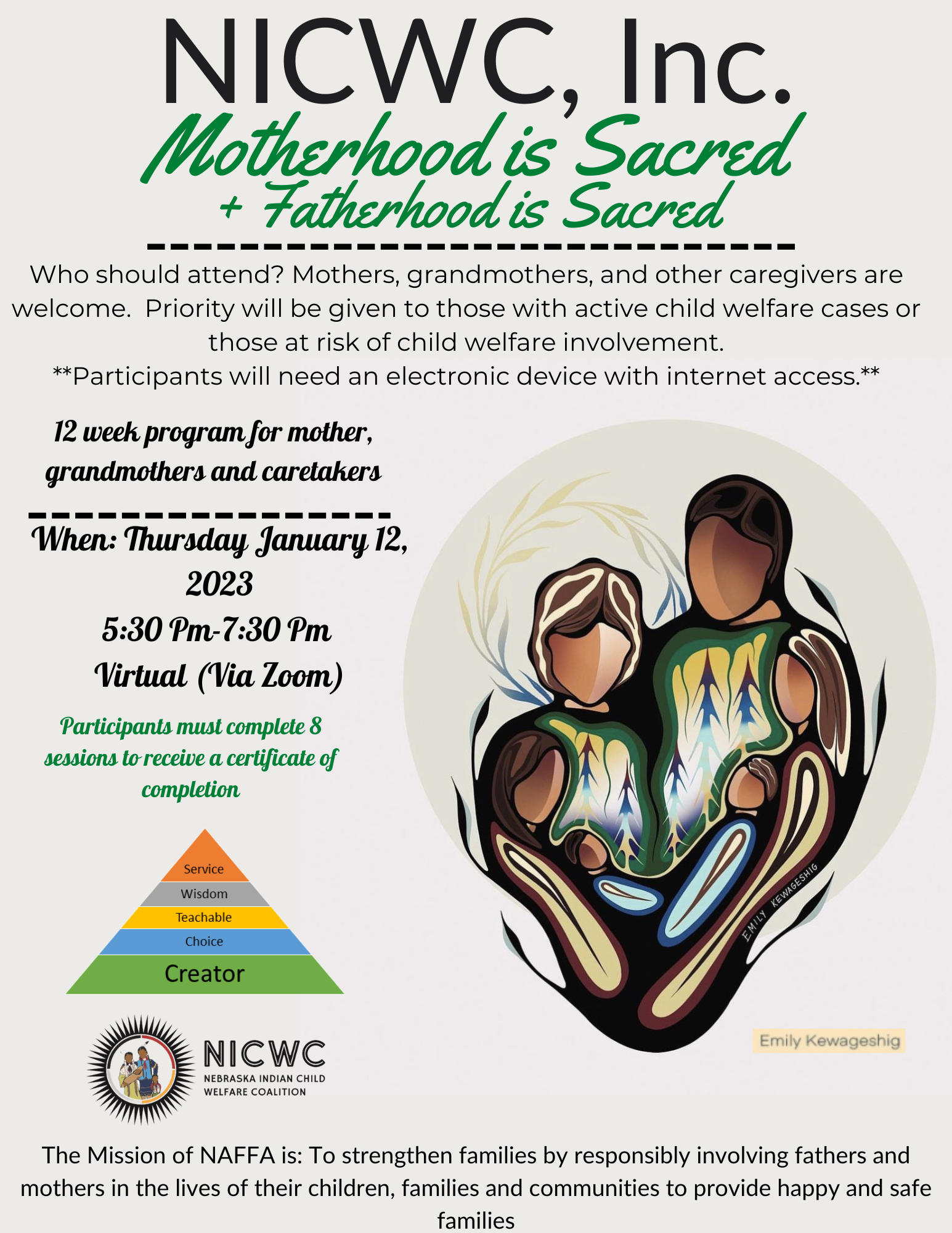 Motherhood is Sacred
NICWC is hosting another group for MIS!   This class will begin January 12, 2023 from 5:30 pm – 7:30 pm.
Events
For more information about our current or future events, please visit our events page.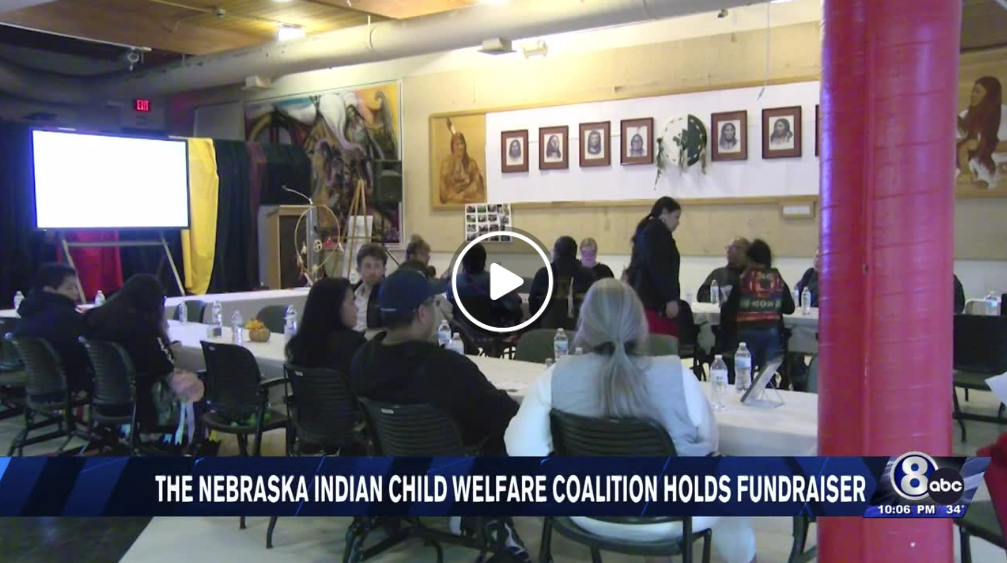 Nebraska group supporting Native American kids holds first in-person fundraiser

Brief Urges Supreme Court to Uphold Indian Child Welfare Act
August 23, 2022
The Public News Service released an article about the ACLU of Nebraska joining the national brief filed in a case before the U.S. Supreme Court and our Executive Director Misty Flowers talks about the Indian Child Welfare Act.
Visit our Publications Page
This page has our strategic plan, reports, and NICWC in the news.